This story appeared on FOX NEWS Entertainment in July of 2016. We're not so sure we buy it… let us know what you think in the comments!
Scores of attractive women made their way to Comic Con in San Diego, Calif. last week to don skimpy cosplay outfits to entertain the convention's superhero fans. Many do it just for fun, but for some it's a job that pays well into the six figures.
"In addition to a per diem and travel costs, popular professional cosplayers can make at least $5,000 to $10,000 a show," comic book expert Christian Beranek told FOX411. "If you add in mail order sales, crowd funding contributions and YouTube ad revenue, the top talents are pulling in close to $200,000 a year."
"Boy Meets World" actress Maitland Ward has become one of the most popular cosplay stars. She said a "Star Wars" themed photo shoot she did in 2015 got the ball rolling.
"It actually started when a few photographers who covered me and my daring red carpet looks thought it would be a cool idea if I became the girl that posed in 'Star Wars' gear for the holiday and annual Star Wars celebration, 'May the Fourth Be with You,'" she said. "I thought it was a cool idea to shoot as slave Leia, and didn't give it much thought. It was only after the photos came out did I realize how much fans enjoyed seeing me dressed up."
Ward wouldn't tell us how much she made for her appearances, but said there's plenty of money changing hands at the conventions.
"I've seen cosplayers charge $20 to $30 for selfies, and they charge just as much for their autograph. I could never do that," Ward said.
Ginny McQueen has been dressing up in character costumes in 1998. Her website features a "hire me" section as well as a "support" section that allows fans to donate money to her projects, including cosplay, but McQueen said she does it because she loves it.
"While I have received many opportunities over the years because of cosplay, it is still first and foremost a hobby for me," said McQueen.
Ward said if you don't like it, you won't last long.
"The key to having longevity as a cosplayer is first you have to enjoy it, because most days you are on your feet all day, the costumes aren't that comfortable, and the shoes have to match the outfit," said the 39 year old. "So if you are in it to make money, you will burn out fast."
But some critics say the original intention of celebrating comic book art, shows, and movies at the conventions has been tainted by cosplayers looking to cash in on their looks.
"Some Comic-Con'ers probably don't appreciate the half-naked women in body paint and sexy costumes gathering crowds," said Bill Swift, editor of Egotastic.com, a site that features many of the popular Cosplay women. "But as is the case of half-naked women in body paint and sexy costumes, the majority of fanboys are well in favor."
Swift added that while not all women who dress up as Leia or Lara Croft are genuine fangirls, they work hard for what they earn.
"The popular ones communicate with the nerd fan base 365 days a year on social media," he said. "So it's not as if they just show up to Comic-Con and suddenly have cred."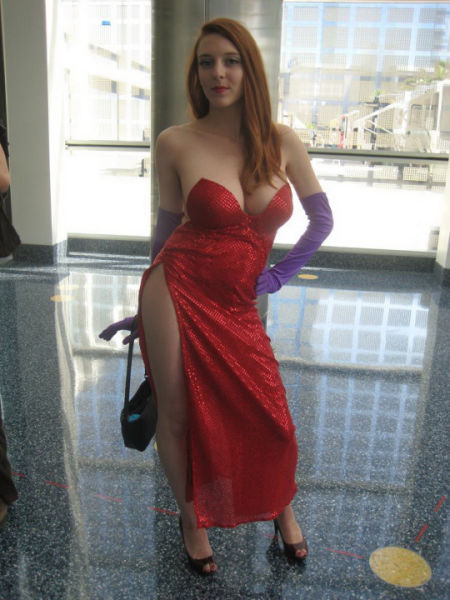 Fox News.com Reporter and FOX411 host Diana Falzone covers celebrity news and interviews some of today's top celebrities and newsmakers.  You can follow her on Twitter @dianafalzone.
Other News: Japanese Illustrators Inspired by Cosplayers!