Black Hole Chan Cosplay
Black Hole Chan Cosplay – Black Hole-chan refers to the Moe Anthropomorphization of a black hole. While the character appeared alongside characters like Earth-chan in late 2017 and early 2018, the publication of the first image of a black hole caused many more artistic renditions of the character to appear online with cosplay soon to follow.
Moe Anthropomorphism, also known as Gijinka (擬人化 in Japanese for "humanization"), is the trend of creating human-like characters based on non-human subjects, including inanimate objects, animals, brands or concepts. Online, many of the female representations are named using the Japanese honorific "-chan."
Pan-Chan's Cosplay seems a natural fit simply based on her name but her Black Hole Chan was clearly the hottest black hole on Instagram! Check out all of Pan Chan's fire here!
Although some would argue, there's nothing hotter than Kayyybear's Black Hole Chan.
The Little Vampyr, aka Jhonkaire Mazza, did this beautifully artistic rendition.
And when Jessica Nigri, Cosplay Queen, jumps in, you know something's trending.
British phenom Belle Delphine has racked up 3.5 million views and over 11k comments with her Instagram video post.
I'm black hole-chan ????✨
It's not just stars and planets that I swallow….#blackholechan pic.twitter.com/35LCasNMU2

— Belle Delphine (@BelleDelphinee) April 11, 2019
It's even spread across the Russian cosplay scene – resistance is futile.
@city.alien says: Protect Earth-Chan or Die!
Black Hole Chan Origins
The earliest known picture of "Black Hole-chan" appeared on Pixiv on December 4th, 2015. It was drawn by user sawasawa.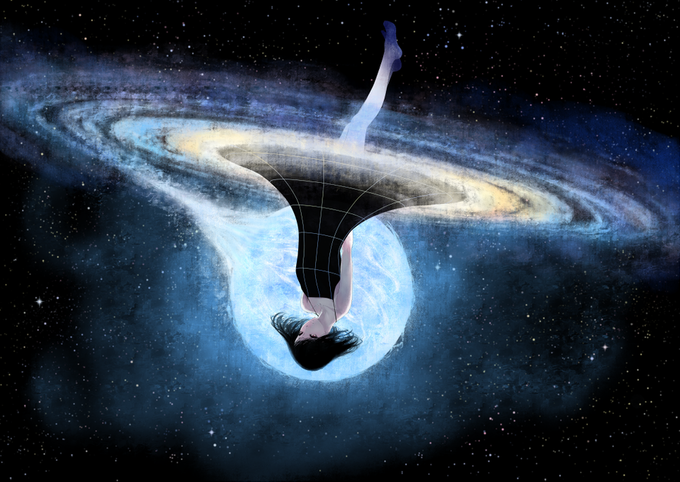 Black Hole Chan Spreads
The character saw more spread alongside the rise of Earth-chan in late 2017 and early 2018. One of the most prolific artists of Black Hole-chan was BSA Apricot, who posted numerous popular pieces that winter.
After the first image of a black hole appeared online, the character saw a surge online, appearing in more artwork across the web. Again, BSA Apricot helped the spread of the character, posting comics to Twitter.
The Bowsette train kept on rolling – how long will the Black Hole thing last? We had fun tracking the hottest Bowsette on Instagram and documented Bowsette's origins for you as well! And not to be left out, Boosette came into her own as well.
Black Hole Chan Live Instagram Feed
Here's a live feed of the #BlackHoleChan hashtag to keep you up to speed. Enjoy!